What's new
An overview of our new features and key enhancements in this release.
New edit post toolbar: new & improved design 
We've upgraded Passle's post editor. This update comes with a range of exciting improvements designed to enhance your editing experience, providing more formatting options, and introducing new features.
With CKEditor, you can expect a whole host of advanced functionalities that will elevate your editing process. Key features include enhanced revision history, collaboration capabilities and a spelling & grammar check. Explore each feature below for more details.
What do I need to do: Nothing, the transition should be seamless and, except for a few new icons, the toolbar should remain unchanged. This feature is enabled for all Passle users.
See the difference below:
Old toolbar

New toolbar


New edit post features
Real-time collaborative editing
Users can collaborate and edit content simultaneously in real time.
Similar to other common editing software, when multiple users are working on the same post, a banner and their avatar will appear on the editing page.

Additionally, when track changes are enabled, you can review, accept, dismiss changes and comment instantly, streamlining the editing process.
What do I need to do: Not a thing, this feature is enabled for all Passle users.
Revision History 
Effectively manage and track revisions made to your posts. 
View a detailed version history, to easily compare and see changes between versions.
View the chronological version history of your content.
Compare selected versions to each other and any updates between them.
Track which users made what changes.
Restore an earlier version of your content to easily reverse any changes.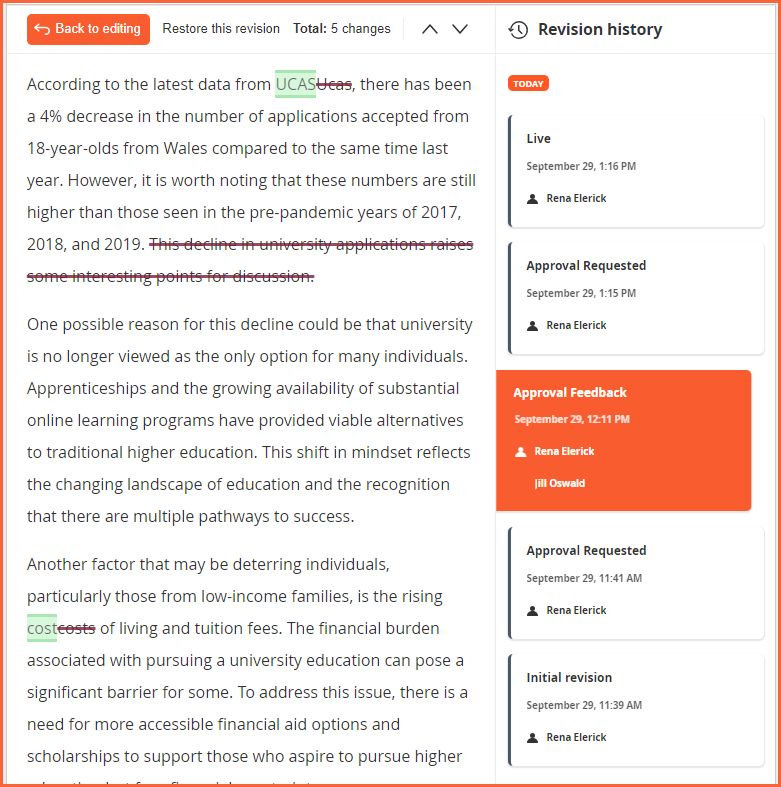 Versions are automatically created each time the post enters a new status, such as when it's submitted for approval, receives approval feedback, or is made live. Users also have the option to create and save versions manually at any time. 
What do I need to do: Nothing. the new revision history is enabled for all Passle users.
Enhanced Collaboration & Governance Suite
Enterprise
Track changes and comments
With this addition, users can easily track, review, and accept or discard suggestions made to a post, allowing authors and teams to collaboratively write and create content.
Key capabilities include:
Redline changes in content and then accept or discard them.
Suggest changes such as formatting updates, inserting tables, images or media.
Accept or discard changes individually, or all changes with a single click.
Comment and start conversations about content in real time. 
Access comment archive to view a full history.
Example of track changes in the post editor, highlighting suggested changes. 
Example of comments in the post editor, reply or mark as resolved.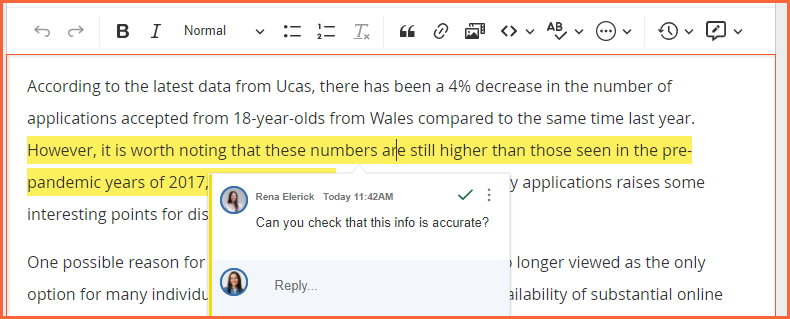 What do I need to do: This feature is not enabled for Passle users by default. Contact your Client Success contact and they will be happy to discuss. 
Spelling & grammar check
We've introduced a new spell and grammar check feature that allows you to address spelling and grammar issues directly within the editor. Easily spot and correct mistakes with clear notifications and intuitive suggestions. 
Additional features: 
Supports proofreading of over 20 languages.
Ability to create custom user and company dictionaries, ensuring the correct spelling of company and employee names.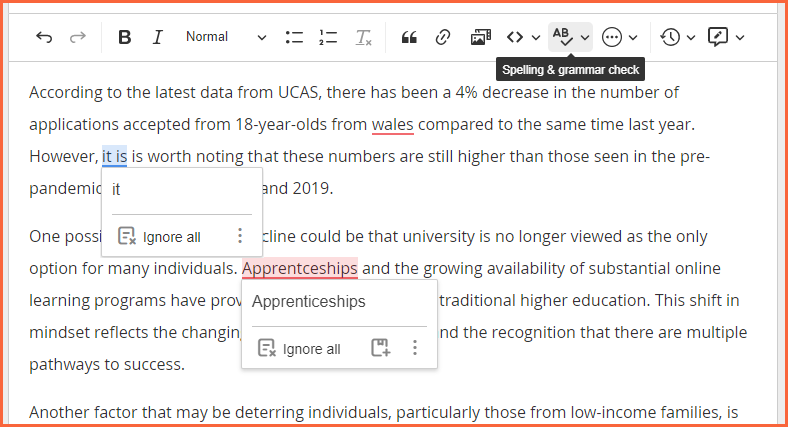 What do I need to do: This feature is not enabled for Passle users by default. Contact your Client Success contact and they will be happy to help.
New approval workflow for live posts
Enterprise
In response to feedback from some of our clients, we have introduced a new (optional) approval workflow for live posts. Previously, authors could update their live content without undergoing the approval process again. If this new feature is enabled, any revisions to live content will now follow the same approval process as draft content. This ensures that all updates to live content are thoroughly reviewed, guaranteeing the accuracy of your published posts.
The new workflow does not impact users who already have publishing permissions. Users who were previously able to create and publish draft content will still have the ability to make changes to their live posts without going through the new live approval workflow.
What do I need to do: This feature is not enabled for Passle users by default. If you would like to know more about the new live approval workflow and how it could work for you, contact your Client Success contact. 
New features for approval process: link to Company Policy Guidelines
At the request of our clients, we have provided the ability to add a link to company documentation: to enable quick access to editorial or policy guidelines. When set up, this link appears on the Edit post page.

This link can be managed by a company administrator who has been granted 'Manage approval process' permissions. 
Ability to add a URL to guidelines (eg: hosted on a company intranet page or PDF).
Ability to customise guidelines link title.
Visibility of link on the Edit post page can be set client-wide, or at individual Passle level.
What do I need to do: Contact your Client Success contact to grant 'Manage approval process' permissions for a user. Visit our Knowledge Base article to find out more about Adding company guidelines.
Tag mapping
Enterprise
We have created a flexible solution for our Enterprise clients (and your agencies), to be able to map and organise your tags so that Passle tags match your CMS tag structure. As part of this feature, we have added new API endpoints for clients to be able to get their tag mapping data.
This new feature is available to company administrators with the 'Advanced tag mapping' permission. It allows the administrator to manage tag mapping, adding children and aliases for each Passle tag.
Ability to view a new Manage tags space from the Company section on the administrator toolbar.
Management of each tag and associated 'children' and 'aliases', to map and organise your tags to match your CMS tag structure, and ability to download a csv file of the details.
Ability to download a complete tags report (as csv file), detailing all tags and associated Passles, number of posts, views, reposts and social referrals.

What do I need to do: This feature is not enabled for Passle users by default. Please get in touch with your Client Success contact and they will be happy to discuss. 
Image permissions
Ability to control upload of images
We understand the importance of ensuring that any media used in your posts aligns with your branding, adheres to usage rights, and avoids unnecessary duplication. 
With this in mind, we are introducing a new permission setting at administrator level. These permissions allow control over image uploads for each user role. Administrators then have the ability to create an approved library of images, making it easier for authors to select suitable media. This simplifies the content creation process, allowing authors to focus on their writing content.
What do I need to do: Management of image permissions are enabled for all Passle administrators.
Getty images
Include Getty images in post body
For clients with Getty images enabled, their users can now insert images from the Getty library directly into the main content of their posts, using the 'insert image' icon on the edit post toolbar. Previously, Getty images were restricted to being used only as featured images. 
Disable use of Getty Images 
If you wish to impose stricter media restrictions, you also have the option to disable the use of Getty Images for your company.
What do I need to do: To disable Getty images, please get in touch with your Client Success contact or reach out to Passle Support for assistance. 
Other changes
An overview of other enhancements and any minor tweaks to our existing features in this release.
Update to 2-step approval workflow 
We've made some updates to the 2-step approval workflow by changing who receives approval feedback. Originally, all feedback went to the original author. However, based on feedback from some clients using this workflow, we've updated it so that feedback now goes back to the last step. 
For instance, if a post receives feedback from the final 2nd step approver, it will be sent back to the 1st step approver for any necessary amendments. Feedback sent at the 1st step will still be sent to the original author, as it does now. 
Our clients pointed out that in most cases, feedback at the 2nd step is typically addressed by an administrator rather than the author. This change aims to streamline the approval process by allowing the 1st step approver to make required changes and send the post back to the final approval stage, instead of the author having to start the approval process from scratch.
Additionally, we resolved a bug in this scenario where the 1st step approver didn't have the option to approve a post to send on to final approval; they could only publish it.
Addition of 'Approval feedback' filter to Manage Passle page
To support the changes we have made to our approval workflows we have introduced a new 'Approval feedback' tab under your Manage Passles page. This provides all users with convenient access to any approval feedback, expediting your content publication.
Updates to Custom Design Tool
Digital Transformation Suite
We've made enhancements to the Custom Design Tool (CDT) with quick links to relevant help articles and info tooltips for easier access to guidance for each section. Additionally, we've improved the navigation to clearly indicate the template and Passle you are currently editing.
Updates to Client Connect subscribers statistics page 
Where there is more than one Client Connect set for a client, we have now included 'Client Connect' as a filter within the Client Connect subscriber statistics page filters, to allow you to filter across the different Client Connect newsletter options.
Also, we have updated the filters to include a reporting period, with the default reporting period as 'Last 30 days'.
Updates to approval email templates
We've made minor updates to the content in some of our approval emails:
Approval requested
Approval feedback
Post approved & published
These updates aim to improve clarity by displaying essential information about the post, such as authors, approvers, and, when applicable, the requester of approval.
Automated updates to SEO meta keywords
When a post is published, all tags from the post will now be automatically added to the Meta Keywords in the SEO settings.
Administrators will still be able to edit and remove meta keywords in the SEO settings as normal.
Update to managing tags: ability to set a tag group as mandatory
To add more flexibility to the management of tags and tag groups, administrators will now be able to set a tag group as mandatory. Any mandatory tag groups are marked with a red asterisk on the Edit post page.
For example, you may wish to implement a setting so that your users (or approvers) have to select at least one tag from a particular tag group - or groups (ie: Region or Sector) before they are able to publish a post.
Enabled image suggestions for all DTS Clients
Digital Transformation Suite
After introducing this optional feature in September 2022, we are pleased to announce that it is now available to all clients using the Digital Transformation Suite.
When creating commentary posts on Passle, we use AI to extract keywords from the text of the article and search Getty based on those keywords. We will also run a Getty reverse image search on the open graph image from the article to provide the most suitable suggestions.
We present the top three image options, but if none of these work with your post, you have the option to explore all suggested images.
For Classic clients interested in discussing and implementing this feature, please reach out to your designated Client Success contact.
What we've fixed
A list of bugs fixed in this release.
Fix to Featured media button wording: Update from 'Change media' to 'Add media' when there is no media already set (if opengraph images are disabled).
Fix to dark mode styling on mobile app.
Fix to 'Activity tab' behaviour when there are no notifications to show.
Fix to left-hand menu where Passles page link cannot be selected when collapsed.
Fix to allow agency users to send suggestions.
Minor UI tweaks on Edit post page.
Added a tooltip to Client Connect heading in the post activity table. 
Allow administrators to edit tags even if their user role has read only/hide permission.
Updated the 'No featured image' modal to not show every time a post is saved. 
Fixed issue when a user had access to multiple clients, the Passle name was hidden in the left-hand menu.