An overview of our new features for Enterprise clients.
October 2023
Tag mapping
We have created a flexible solution for our Enterprise clients (and your agencies), to be able to map and organise your tags so that Passle tags match your CMS tag structure. As part of this feature, we have added new API endpoints for clients to be able to get their tag mapping data.
This new feature is available to company administrators with the 'Advanced tag mapping' permission. It allows the administrator to manage tag mapping, adding children and aliases for each Passle tag.
Ability to view a new Manage tags space from the Company section on the administrator toolbar.
Management of each tag and associated 'children' and 'aliases', to map and organise your tags to match your CMS tag structure, and ability to download a csv file of the details.
Ability to download a complete tags report (as csv file), detailing all tags and associated Passles, number of posts, views, reposts and social referrals.

For more information about Tag mapping and the available API endpoints, see our remote hosting documentation. 
Enhanced Collaboration & Governance Suite
Track changes and comments 
With this addition, users can easily track, review, and accept or discard suggestions made to a post, allowing authors and teams to collaboratively write and create content.
Key capabilities include:
Redline changes in content and then accept or discard them.
Suggest changes such as formatting updates, inserting tables, images or media.
Accept or discard changes individually, or all changes with a single click.
Comment and start conversations about content in real time. 
Access comment archive to view a full history.
Example of track changes in the post editor, highlighting suggested changes.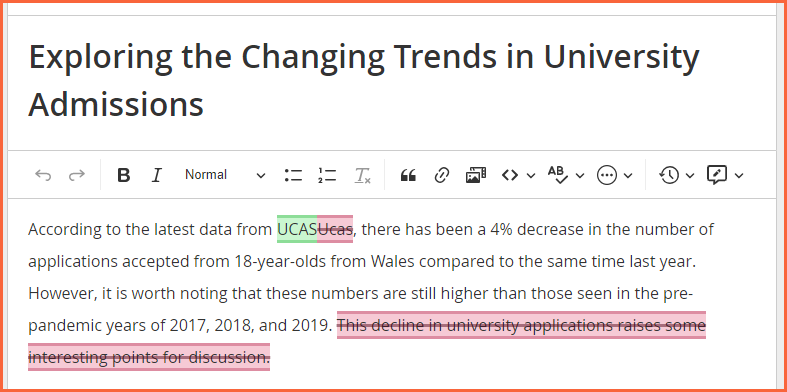 Example of comments in the post editor, reply or mark as resolved.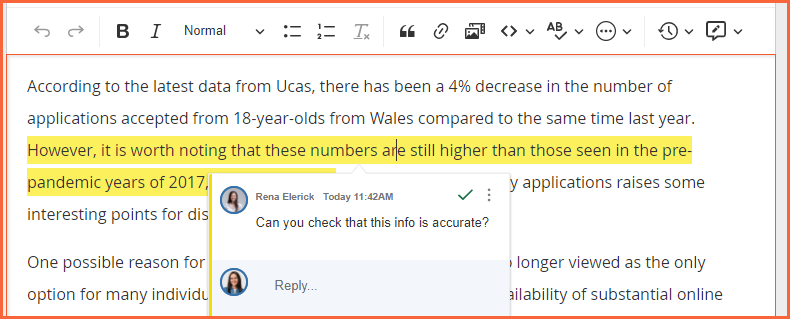 Spelling & grammar check
We've introduced a new spell and grammar check feature that allows you to address spelling and grammar issues directly within the editor. Easily spot and correct mistakes with clear notifications and intuitive suggestions. 
Additional features: 
Supports proofreading of over 20 languages.
Ability to create custom user and company dictionaries, ensuring the correct spelling of company and employee names.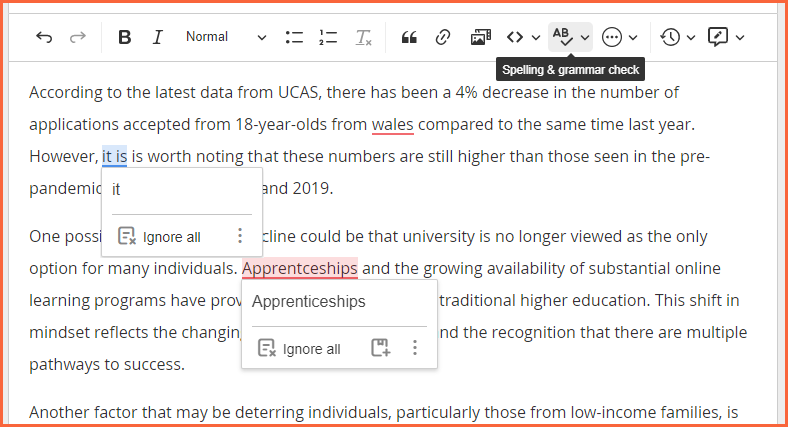 New approval workflow for live posts
In response to feedback from some of our clients, we have introduced a new (optional) approval workflow for live posts. Previously, authors could update their live content without undergoing the approval process again. If this new feature is enabled, any revisions to live content will now follow the same approval process as draft content. This ensures that all updates to live content are thoroughly reviewed, guaranteeing the accuracy of your published posts.
The new workflow does not impact users who already have publishing permissions. Users who were previously able to create and publish draft content will still have the ability to make changes to their live posts without going through the new live approval workflow.