This is a technical integration. We recommend asking your technical team to complete this task.
Please find steps below for Passle clients interested in setting up SSO. Full documentation can be found at the bottom of this article.
To set up SSO with Passle:
To set up SSO, your Identity Provider must support SAML. To establish your SSO account on the Passle side, we request your XML via an externally available URL. This is usually provided by your IdP. If they do not provide this to you, let us know and we will tell you the manual details we need.
Insert our Passle information into your IdP sign-in information. Our metadata can be found with the URL:

https://www.passle.net/saml/[Your client shortcode]/metadata
Please contact support@passle.net if you are unsure about your client shortcode.
Please ensure that whomever is testing SSO, also has a Passle account set up as Passle needs to match the email address of the user we have in our application with the email address found in the SAML packet. 
Once both metadata setups have been completed, contact support@passle.net to turn SSO live for your organization.
Once support has notified you that SSO has been turned on, please go to the login page and click the SSO icon to test the set up.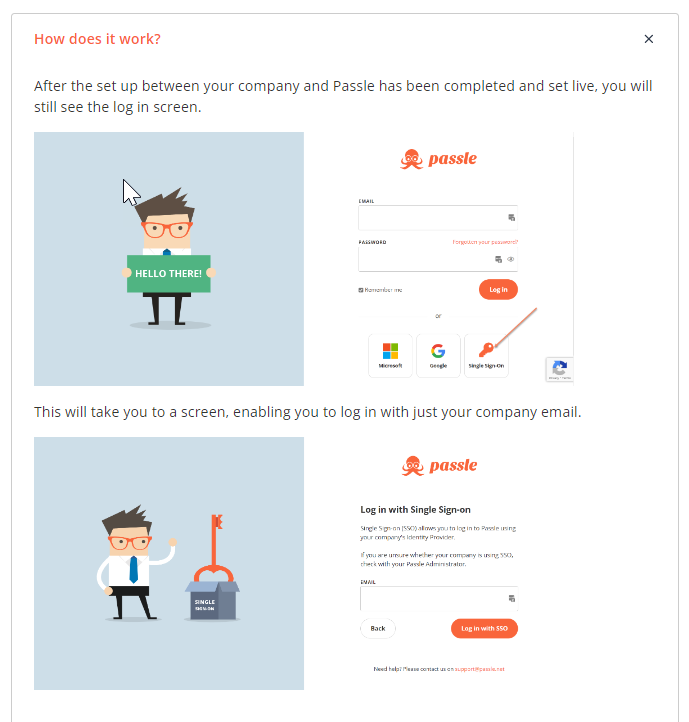 The following PDF, provides additional technical information to help with SSO implementation should you need it:-